Case Study Focus

ICFAI Business School (IBS), Dehradun uses the case method as a very important teaching and evaluation tool. The case based learning is integrated as a dominant tool in the education methodology which reinforces the students' understanding of the concepts and their ability to apply them in real life and practical business situations. To be an effective professional, the student has to think and act like one. Case studies of reputed Indian and international companies are used. These cases help students understand the complexities in various business, political, legal and social environments.

Case based Learning helps:

Develop skills in problem solving and decision making in complex business situations
Gain confidence in handling dynamic situations
Acquire valuable experiential learning that simulates the business environment in a classroom.
Learning through cases is like learning by doing. What one learns by doing, one remembers for a long time. The case study advantage offered by IBS is a life-long advantage for the students.

Summer Internship
The Summer Internships are undertaken after the second semester onwards and are faculty supervised. They enable the students to experience the rigor of business environment and combine the concepts learnt in classroom with the real-life situations in organizations. The broad objectives of summer internship are:

To provide students with opportunities to apply the concepts learnt in the classroom to real life situations.
To sensitize students to the nuances of a work place by assigning time bound projects in a company.
To provide students a platform to work and develop a network which will be useful to enhance their career prospects.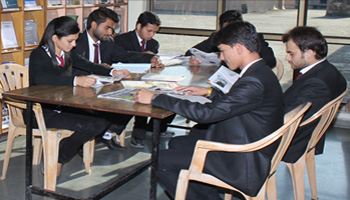 Industry Interaction
IBS consciously encourages industry interaction with a wide cross section of professionals in the industry. Summer Projects, industry interaction programs, guest lectures, seminars etc., organized in association with the industry offer students an opportunity to exhibit their organizational and communication skills, analytical abilities and awareness of contemporary issues to leading recruiters.
AWARDS
National Cleanliness and Hygiene Award conferred to Maj.V.N.Saxena (Retd.), Faculty of IBS, for his research paper entitled 'A Unique Model Recommended to be Implemented in Religious Shrines Across India" as a part of 'Swachh Bharat Abhiyan'